Here follows the collection of CVS Fine Arts for your viewing pleasure. For some time we have hidden under the mossy roots & ferns, so unbeknown to our Charles van Sandwyk, we now appear.

Actually we too, are reluctant to surface. However our fine shop keepers have requested this rite of passage as a result of disappearing catalogues.

We of the old world welcome you to linger in the magical domaine herein. May you enjoy each and every snail & tail.

The Fairy Presser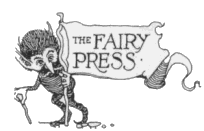 Fine Art & Design Illustrations, Text & Calligraphic works are copyrighted by the artist Charles van Sandwyk.